Gift Certificates |
Flight Information
|
Pricing
|
Launch Sites
|
Balloon Home
Gift Certificates are available and make great surprises!
Certificates are valid two full years from date of purchase.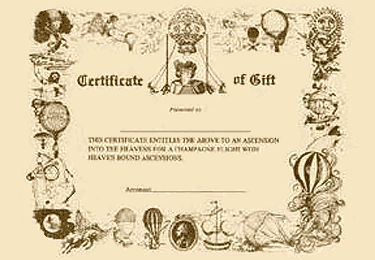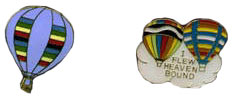 After the flight, during our ceremonial toast, you will be awarded a beautiful first flight certificate and a pin, which is a replica of the balloon that you will fly in.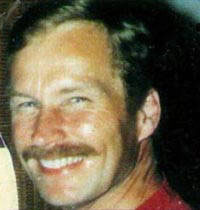 Meet Aeronaut DENNY WELSER.
He is an FAA licensed pilot and has been flying for over 35 years. He first became interested in ballooning when purchasing a ride for his wife Patreece, after the ride he was hooked on flying. His wife said "I knew you were going to buy a balloon, you were asking our pilot too many questions."
Please review our
current Covid-19
safety policy
SERVICES AVAILABLE
Champagne balloon flights
Corporate and promotional balloon tethers
Advertising
The balloon can be fitted with a banner. Special shaped balloons can be manufactured to advertise your products or business.

SPECIAL OFFERS
Hot
air
balloon ride 1/2 price holiday
special!
Gift certificates
Purchase a ride certificate for one person at the regular price of $350 and add a second rider for half price.
Purchase your champagne balloon flight now!
Certificates are valid for two years from date of purchase.
Offer not valid w/ other specials.
Call to purchase your Hot air balloon ride certificate.
Free : 800 704-2511
Local : 330-633-3288